9 Spooky and Sweet Halloween Camping Treats
October is a month of magic, mystery, and mouthwatering treats, especially when you're camping at Great Escapes RV Resorts Branson. As the trees don their autumnal hues and the nights grow cooler, there's nothing better than gathering around the campfire at your campsite or cabin with friends and family, sharing stories, and indulging in some Halloween-themed camping treats. And the following treat ideas are sure to add a sprinkle of spooky fun to your camping experience.
Halloween Camping Treats for Your Great Escapes Adventure
1. Ghostly S'mores
Give the classic camping treat a ghostly twist! Use white marshmallows to represent ghosts and chocolate chips for their eyes. Roast the marshmallow until it's gooey, then sandwich it between two graham crackers with a piece of chocolate. Voilà, a ghostly s'more!
2. Witch's Brew Hot Cocoa
Begin by making hot cocoa using a white chocolate hot cocoa mix—brands like Ghirardelli and Swiss Miss offer delicious white chocolate hot cocoa mixes perfect for this treat. Once your hot cocoa is well-blended, stir in a few drops of green food coloring to achieve that eerie, witchy hue. Top it off with some whipped cream or marshmallows!
3. Spider Web Pretzel Snacks
Melt white chocolate and drizzle it in a spider web pattern over pretzels. Place a chocolate-covered almond in the center as the spider's body. You can use tiny dabs of white chocolate to stick on small chocolate chips as the spider's eyes.
4. Mummy Dogs
Wrap hot dogs in strips of crescent roll dough, leaving a small gap for the mummy's eyes. Bake until golden brown, and use mustard or ketchup dots for the eyes.
5. Monster Apple Bites
Slice apples into wedges and spread peanut butter on one side. Place marshmallows or yogurt-covered raisins between two slices to resemble teeth, creating a monster mouth.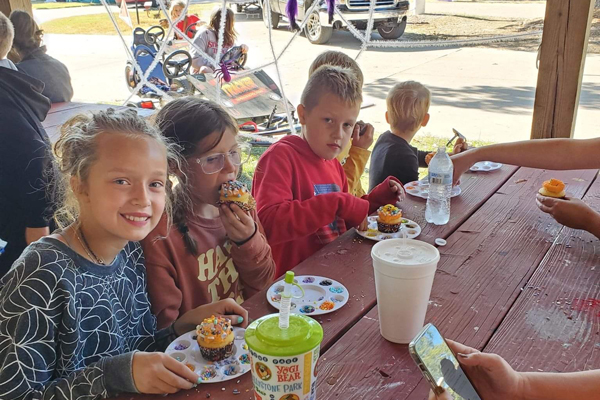 6. Candy Corn Trail Mix
Mix together candy corn, peanuts, raisins, and chocolate chips for a sweet, salty camping treat perfect for on-the-go snacking.
7. Creepy Crawly Gummy Worm Ice Cubes
Add a chilling touch to your camping beverages with this simple trick. Freeze gummy worms in ice cube trays filled with water or juice. Once frozen, pop them into your drinks for a spooky surprise that perfectly pairs with Halloween camping treats.
8. Ghostly Banana Pops
Cut bananas in half and insert popsicle sticks. Dip them in melted white chocolate and place two mini chocolate chips as eyes. Freeze until set.
9. Tombstone Rice Krispie Treats
Shape Rice Krispie treats into tombstone shapes, dip the tops in melted gray chocolate, and write "RIP" with edible markers.
Halloween at Great Escapes RV Resorts Branson is not just about the spooky vibes and fun activities like pumpkin carving, crafts, games, trick-or-treating, and costume and campsite contests. It's also about indulging in delightful camping treats that add to the festive spirit.
So, as you prepare for our Halloween Spooktacular Weekends, don't forget to pack the ingredients for these treats or even create your own recipes. After all, every memorable camping trip needs some delicious camping treats to make it complete. Book your October weekend with us, and let the hauntingly fun adventures begin!
Stir Up Some Fun and Book Your Bewitching Stay Now