Camping Tips for Beginners From Our Great Escapes Staff
Welcome to Great Escapes RV Resorts Branson! If you're new to camping, you're in for a treat. There's nothing quite like the feeling of pitching your tent under the stars, cooking meals over an open fire, and waking up to the sound of birdsong. However, we understand that the idea of camping can be daunting for beginners. That's why our dedicated staff has compiled this list of essential camping tips to guide beginners and ensure your family camping experience runs smoothly.
First-Time Camper? Top Camping Tips From Our Great Escapes Staff
Before You Go
Get to Know Us: Take a moment to familiarize yourself with all the delightful accommodations that Great Escapes RV Resorts™ Branson has to offer. Our park features a plethora of camping options, from back-to-nature tent sites to fully-equipped RV sites and snuggly cabins.
Pack Smart: Remember the essentials – weather-appropriate clothing, toiletries, a first-aid kit, a flashlight, insect repellent, and sunscreen. If you're cooking, bring the necessary food and utensils. For cabin stays, check what's provided before packing to avoid unnecessary items.
Setting Up Camp
Arrive Early: One of the key camping tips is to aim for an early arrival while there's still daylight. This will give you ample time to set up, explore your surroundings, and settle in before nightfall.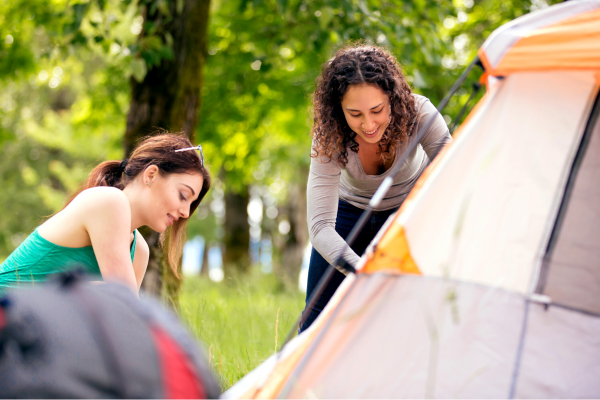 Plan Your Supplies and Transportation
Camp Store: Forgot to pack something or need extra snacks and supplies? No worries! Our camp store is well-stocked with everything from firewood to a tempting array of snacks.
Golf Cart Rental: Want to make getting around the park even easier? Consider renting a golf cart. It's a fun and convenient way to explore Great Escapes RV Resorts Branson. To ensure availability, it's a good idea to book the golf cart in advance when you arrange your stay.
During Your Stay
Be a Good Neighbor: At Great Escapes RV Resorts Branson, we're all about the friendly, community vibe. Please respect your fellow campers – keep noise down during quiet hours and follow any guidelines we have in place. We're all here to appreciate the beauty of the outdoors together!
Jump Right In: Dive into the wide variety of activities our park offers. Whether you fancy a swim, a hike, or engaging in crafts and games, there's something for everyone here. We're sure your first camping experience will be an unforgettable one.
Wrapping Up
Leave No Trace: Before you say goodbye, ensure your campsite is as neat as you found it. Please dispose of all waste in designated spots. This step helps us keep the park pristine for future guests and is a critical part of the camping code of conduct.
Camping is all about unplugging from the hustle and bustle and reconnecting with nature and  family and friends. With these camping tips for beginners in mind, you're well on your way to having a successful and enjoyable camping experience at Great Escapes RV Resorts Branson.
Ready to Start Your Camping Adventure?