The Ultimate Venue for RV Rallies and Camping Clubs
Hello, RV enthusiasts and camping club members! If you're searching for the perfect backdrop for your next RV rally or camping club event, your search ends here. Nestled in the heart of nature, Great Escapes RV Resorts Branson offers a unique blend of comfort, community, and adventure. Plus, the vibrant local scene in Branson ensures there's never a dull moment.
Accommodations for RV Rallies and Camping Clubs: Space, Comfort, and Nature
Big Rig-Friendly RV Sites: Our expansive RV sites can accommodate rigs of all sizes. Each site comes with full hookups, providing a seamless experience for large rallies.
Cozy Cabins: For those who prefer a more traditional lodging experience, our cabins offer the comforts of home amidst the beauty of nature.
Shaded Tent Sites: Our tent sites are shaded and come with water and electric hookups, offering a perfect blend of convenience and natural beauty.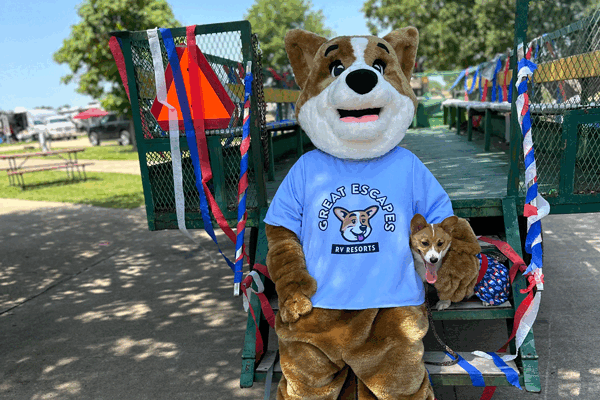 Amenities: More Than Just the Basics
Camp Store and Café: Stock up on essentials or grab a quick bite without leaving the campground.
Golf Cart Rentals: Ideal for large groups to navigate the park easily.
Clean Bathhouses and Laundry Facilities: Multiple facilities mean less waiting and more enjoying.
Wi-Fi: Stay connected, even while you're away from it all.
Dog Park: A dedicated space for your four-legged members to play and socialize.
Firewood for Sale: Perfect for those campfire nights.
Water Obstacle Course and Resort Style Pool (Seasonal): Perfect for team-building activities or just cooling off.
Gem Mining, Axe-Throwing, and More: Add a touch of excitement and novelty to your event.
Nature Trails and Wagon Rides: Explore the natural beauty surrounding the campground, ideal for group excursions.
Explore Branson: Where Every Day is a New Adventure
Branson is more than just a scenic backdrop for your RV rally or camping club event; it's an experience in itself. Known as the "Live Entertainment Capital of the World," Branson offers a variety of shows that cater to all tastes. But the fun doesn't stop there.
With pristine lakes and scenic hiking trails, it's a haven for outdoor enthusiasts. Add to that a diverse culinary scene and shopping districts that offer something for everyone, and you've got a destination that adds an extra layer of excitement and variety to any RV rally or camping club event.
The Perfect Blend of Comfort, Community, and Adventure
Great Escapes RV Resorts Branson offers an unparalleled experience for RV rallies and camping clubs. With spacious accommodations, a wide range of amenities, and a setting that celebrates nature, your event is guaranteed to be memorable.
Ready to elevate your next RV rally or camping club event?
Contact Great Escapes RV Resorts Branson today to start planning!