Top 10 RV Essentials You Can't Leave Home Without
Camping in an RV is an exciting adventure that offers the opportunity to explore new destinations while enjoying the comforts of home on the road. However, packing for an RV trip can be overwhelming, especially if you're unsure what to bring. To make sure you're fully prepared for your next trip, here are some RV essentials that should be on your packing list.
RV Essentials to Pack for Your Camping Adventure
Water Hose and Pressure Regulator
Two of the most important RV essentials to bring on a camping trip are a water hose and a pressure regulator. These items will ensure that you can access clean water at your campsite and regulate the water pressure, which is crucial to prevent damage to your RV's plumbing system.
Sewer Hose and Fittings
Another essential item for RV camping is a sewer hose and fittings. This equipment lets you connect your RV's black and grey water tanks to the campground's sewage system, making it easy to dispose of waste.
Leveling Blocks
Leveling blocks are necessary to ensure that your RV is leveled when parked. This is important not only for your comfort but also for the proper operation of your RV's refrigerator and other appliances.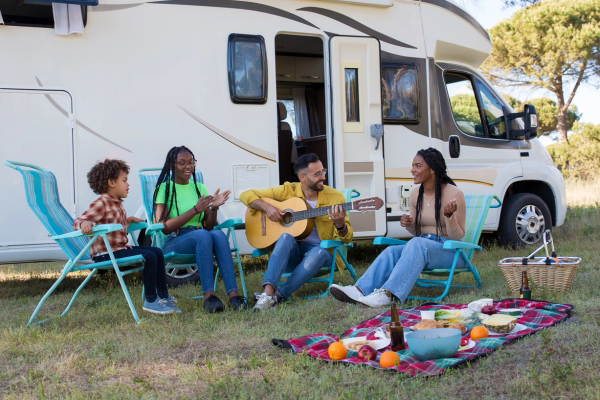 Electrical Adapters
Different campgrounds have different electrical hookups, so it's a good idea to carry adapters to ensure you can connect to the campground's power supply. Consider getting a surge protector to protect your RV's electrical system.
Tool Kit
An RV camping trip can be unpredictable, so loading up a tool kit is always a good idea. This should include basic tools like a hammer, screwdriver, pliers, duct tape, and any specialized tools your RV may require.
First Aid Kit
A first aid kit is another RV essential item. Your kit should include basic supplies like bandages, gauze, antiseptic, and pain relievers.
Camp Chairs and Table
One of the joys of RV camping is spending time outdoors; camp chairs and a table will allow you to do just that. You'll also want to take a camp stove or grill if you plan on cooking outdoors.
Kitchen Supplies
Cooking in an RV can be a great way to save money and enjoy delicious meals. Stow pots, pans, dishes, utensils, and other cooking supplies to make meal prep a breeze.
Bedding and Linens
Comfort is key when it comes to a good night's sleep. Set up bedding and linens to make your RV's sleeping area cozy and inviting.
Personal Items
Finally, don't forget to assemble personal items like clothing, toiletries, and any medications you may need. Gather outdoor gear like hiking boots, a backpack, and a flashlight.
Experience the Ultimate RV Adventure at Great Escapes RV Resorts Branson
Packing for an RV camping trip can be overwhelming, but with the right essentials, you can ensure that you're fully prepared for your adventure. And when it comes to RV camping adventure, Great Escapes RV Resorts Branson is the perfect destination for families.
Our full hookup sites (including 30 and 50-amp electric, water, and sewer connections) come outfitted with a picnic table, fire ring, and charcoal grill and are pet-friendly. Families can also upgrade to an Executive Site, which includes a patio with a table and chairs or an A-frame swing.
Plus, along with endless amenities and activities just steps from your campsite, you'll be just a short drive from all the fun and entertainment that Branson has to offer, including world-class live shows, attractions, and outdoor adventures.
So pack those RV essentials, hit the road, and get ready to experience all the thrills that RV camping has to offer…especially at Great Escapes RV Resorts Branson!
No RV? No Problem! We Offer Tent Sites & Cabin Rentals As Well!