Why a Camping Trip to Great Escapes Makes the Best Birthday
Every year, as your child's birthday approaches, you may find yourself pondering the same question, "What can I gift them that would truly stand out?" It's not just about finding a present; it's about creating an experience, a memory that will stay with them for years to come. This year, consider a gift that is out-of-the-box, adventurous, and packed with joy and excitement – a camping trip to Great Escapes RV Resorts Branson.
4 Reasons Why a Birthday Camping Trip Makes the Perfect Gift
1. Many Ways to Camp
At Great Escapes RV Resorts Branson, we accommodate all types of campers. We have level, concrete full hookup RV pads for RV families, soft, grassy tent sites for traditional campers, and cozy cabins for those who want the camping experience with a touch of home. Whether your family is seasoned in outdoor adventures or new to camping, we have a spot that will fit your needs and comfort.
2. Amenities and Activities
Great Escapes RV Resorts Branson is brimming with amenities and activities that will delight the birthday boy or girl. Your child can make a splash at the swimming pool, bounce on our jumping pillow, try their luck at gem mining, or join in on one of our foam parties. Families can explore our nature trails, enjoy a wagon ride, or challenge each other to a game of Gaga Ball or basketball. With our Camp Store and café, you'll have all sorts of conveniences in the midst of nature.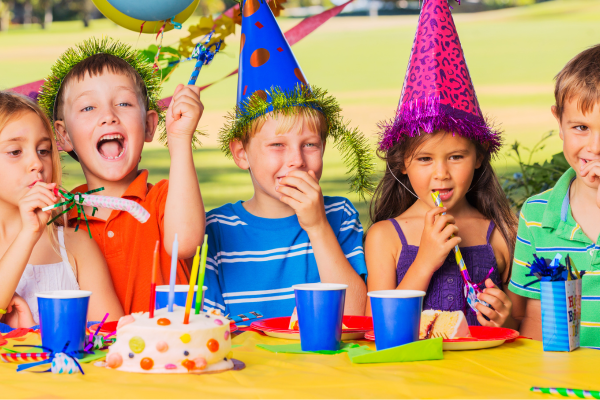 3. Birthday Packages
Make your child's birthday camping trip extra special with one of our birthday packages. Choose from our Lil' Pup, Power Pup Party, or Biscuit Bash packages. All packages include a private visit from Biscuit the Corgi, a birthday card from Biscuit, and a dozen cupcakes. The Power Pup Party and Biscuit Bash packages also include a gift certificate to our Camp Store, perfect for picking out a special birthday souvenir.
4. The Best of Branson Just Minutes Away
As the cherry on top, Great Escapes RV Resorts Branson is just minutes away from the best attractions Branson has to offer. After a day of fun and festivities at the resort, your family can venture out to explore the local attractions. Whether it's a show at one of Branson's famous theaters, a ride on the Branson Scenic Railway, or a day at Silver Dollar City, there's no shortage of fun to be had.
Elevate Your Birthday Celebration with Great Escapes
A birthday celebration at Great Escapes RV Resorts Branson offers a distinctive blend of adventure, excitement, and relaxation. It's not just a party—it's an experience that takes the joy of a birthday to new heights. This year, ditch the ordinary and embrace the extraordinary. Gift your child a birthday camping trip filled with great escapes and even greater memories. Let's start planning your unique celebration today!
Celebrate With Us!